The paper of Amalfi that is also called "bambagina" is a very thick type of paper, elegant to look at and pleasant to the touch, it is used for precious books, or as letter paper, also for degrees or for invitations and business cards.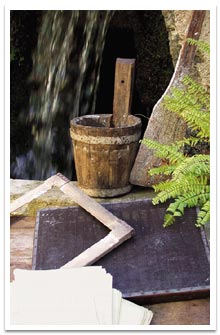 Exported to many European countries and to America, it is much appreciated by famous artists and designers who sing its praises for the high quality, in the words of Giuseppe Leone, one of the first to use it in his work: "There is a whole world that the Amalfi paper evokes and an artist who is sensitive to the suggestion of these places is aware that it is unique and exciting"….
The hand-paper of Amalfi is above all a centuries old culture, with jealous traditions, an art kept alive by dedication and sacrifice.